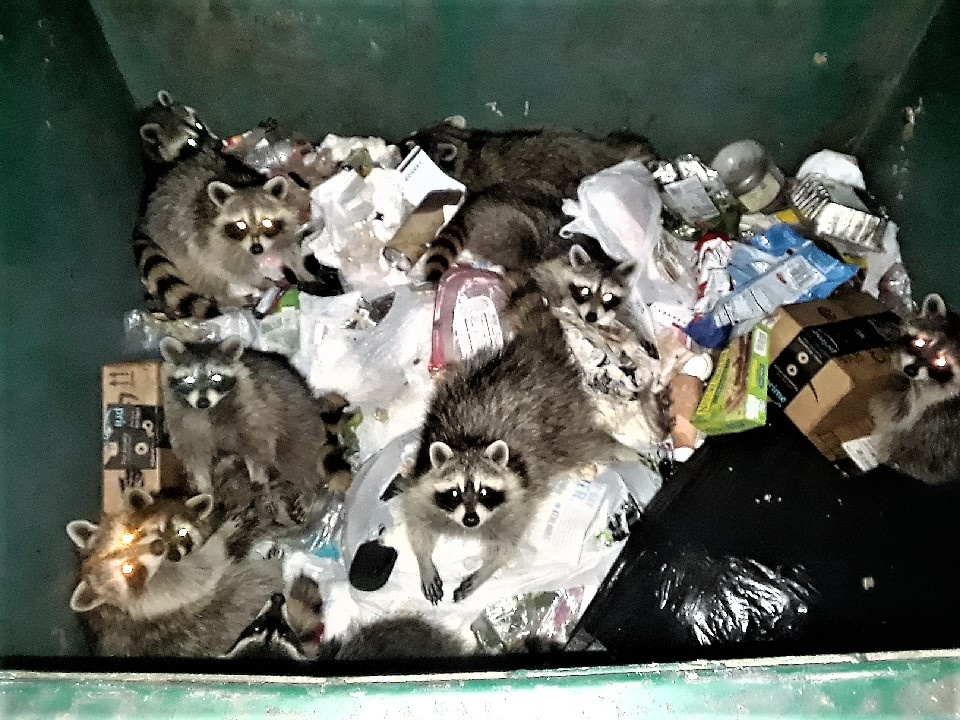 We proudly only use HAVAHART traps for all of our wildlife needs.
The technician answered all our questions, as well as he was very courteous and professional. In today's world, it is harder and harder to find people who do a good job. Usually customers only contact bosses to complain about an employee. Not often enough are the quality employees recognized. You have an amazing employee in Anthony. He brings a great reputation to your company... 3/2/18
As cute as some of these critters are, they can pose imminent dangers to your home, by chewing on electrical wires, ripping out insulation, and causing damage to the interior and exterior soffits, siding, and sometimes foundation. Our wildlife experts are here to ensure not only your safety, but the safety of the animals as well. Every job includes an inspection, animal removal, and exclusion at the time of completion. Any animals trapped, are safely relocated and/or rehabilitated. Our wildlife services ensure all animals are humanely treated and cared for in our stress free thermal cages.

Signs of Unwanted Guests:
Sounds— The patter of footsteps in the attic could signal a raccoon. Scratching noises from that same area could mean bats or squirrels. A rustling sound in the walls could mean mice. A skittering sound as you enter the garage could also mean a mouse or rat diving for cover. Sometimes, these sounds are so faint or sporadic it's hard to tell if they're real. But if you (or other members of your household) hear them periodically, it's worth investigating.
Sights—Do you see evidence of an animal nesting in your house? It could be nests built in the attic or in a quiet corner of the basement. It could be a few droppings in a kitchen drawer or in a linen closet, or indentations that look like teeth marks along wood, or plastic.
Smells—Many animals, such as mice and rats emanate a musty smell. Their urine and accumulated droppings also contribute to a noticeable smell. If you notice an unusual smell, especially one that is present in a closet or usually closed off room, call us to take a closer look!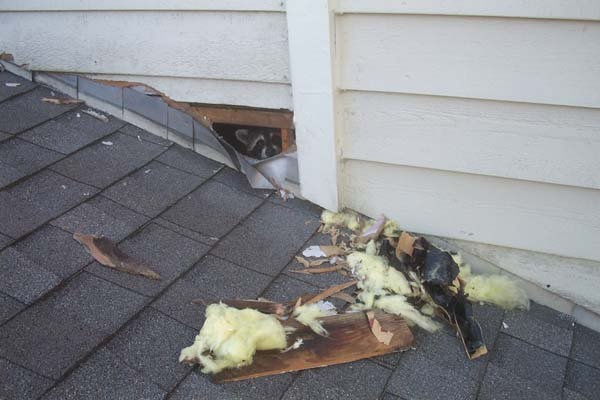 Raccoons:
Raccoons are nocturnal in nature, and are most active during the night. They are active in the spring, summer, and fall, and usually sleep in their dens for most of the winter. Reproduction begins in the late winter. Females (sows) usually give birth to 1-6 baby kits in spring, around April or May. Mothers are very protective of their young until they can part ways at about a year. Adults live in loose knit communities of 4-5 raccoons for better protection again predators. Raccoons have amazing dexterity, giving them the ability to open doors, jars, bottles, and latches. They are also great climbers, which allow them to access better food and shelter.
Raccoons can be extremely destructive due to their curiosity, intelligence, dexterity and climbing skills.
Signs of a raccoon problem:
•Tipped trash cans
•Raided bird feeders
•Damaged gardens
•Damaged crops (ex. chewed sweet corn, hollowed out watermelons)
•Uncapped chimneys
•Torn shingles
•Raccoon tracks: five long toes and fingers resembling human hands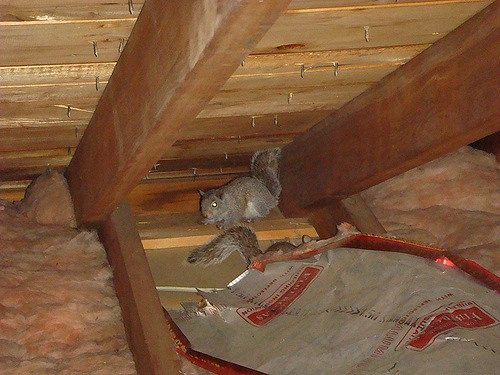 Squirrels:

Squirrels are mainly active during the day. They do not hibernate but will typically spend long hours in their nests during the cold winter months. Because squirrels are active during the daytime, you are likely to see any that may be inhabiting your yard. However, you may not always be home to witness them, or they may be wreaking havoc in other places like your roof or attic. Breeding season occurs twice a year, from December to February and May to June. Normally, 1-4 young are born in each litter, but the largest possible litter size is 8. The gestation period is about 44 days, and the young are weaned around 10 weeks of age.
Signs of a squirrel problem:
•Stolen birdseed
•Damaged wood siding
•Chewed insulation or electrical wires
•Squirrel tracks: tiny prints with four toes in the front and five in the back (front and hind feet are generally reversed)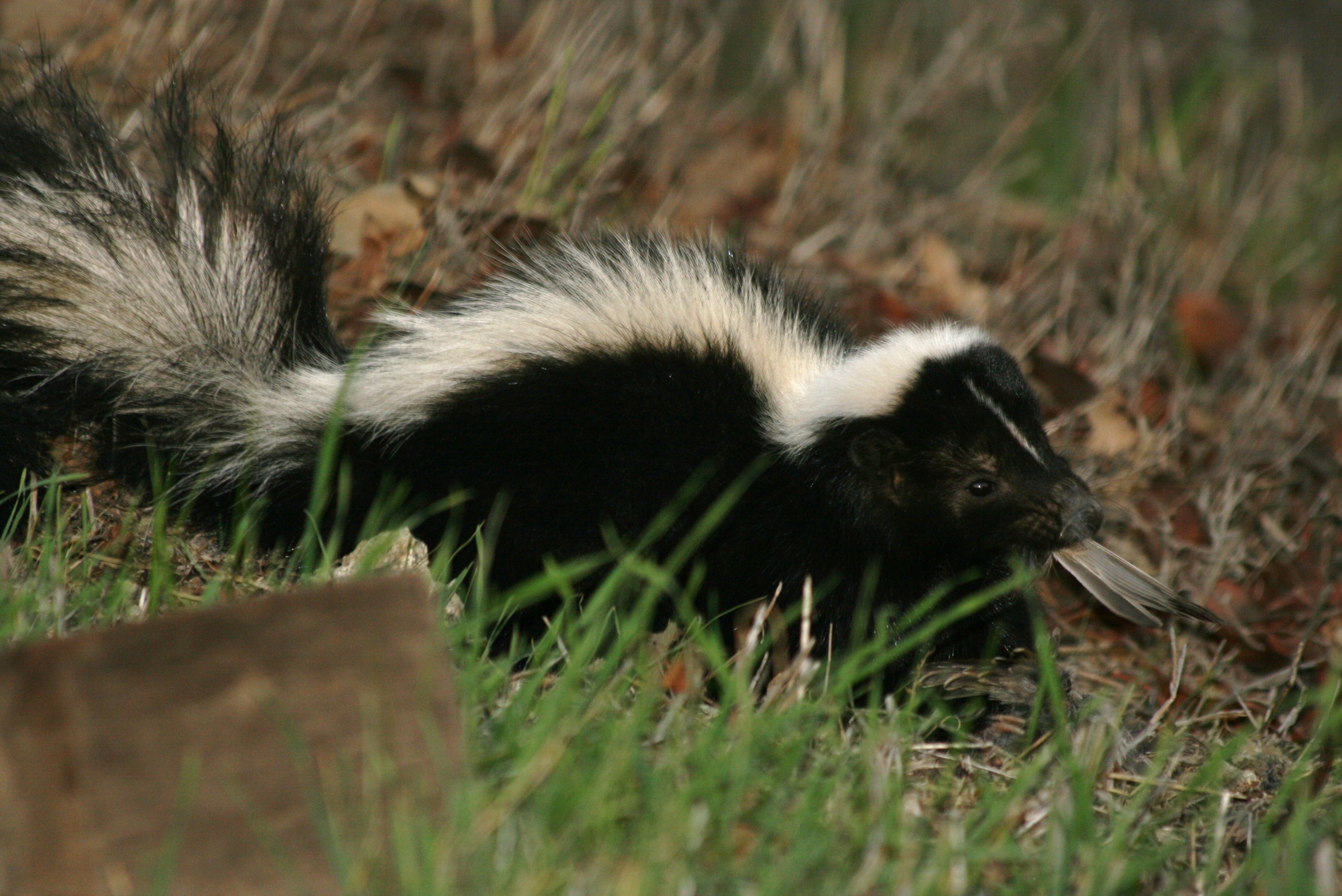 Skunks:
Skunks are nocturnal, so they are most active at night. They do not hibernate, but they tend to be inactive during the coldest months in winter, when they gather in communal dens for warmth. For the remainder of the year, skunks are generally solitary, living and foraging alone. Mating season is one of the only other times when skunks tend to socialize. Skunks have litters of 1-7 young in late April through early June. Skunks have strong forefeet and long nails, which make them excellent diggers. They dig holes in lawns, gardens and golf courses in search of food like grubs and earthworms. When no other form of shelter is available, they may even burrow underneath buildings by entering foundation openings. Skunks are known to release a powerful smell through their anal glands when threatened. Skunks will usually only attack when cornered or defending their young, and spraying is not the first method of defense. A skunk will growl, spit, fluff its fur, shake its tail, and stamp the ground. If the intruder does not leave, the skunk will then lift its tail and spray its famous skunk odor.
Signs of a Skunk Problem:
•Holes in lawn: small and cone-shaped; 3-4 inches in diameter
•Damaged gardens
•Skunk tracks: five toes on each foot with visible claws
•Dumped trash cans
•Raided poultry houses: skunks will steal eggs and occasionally a chicken.
•Skunk odor